16 April 2021
The Cycle to MIPIM has raised an incredible £750,000, as announced last night. A wonderful testament to the organisers and participants who worked so hard on such an amazing event.
The cycle from London to Cannes is a life-changing experience. And one that gives its riders the time to think and talk about the future. 
It is a remarkable opportunity to journey across the length of France, to see the country in a way that even I – as a Frenchman – had never seen it before, up close and cycling every mile! 
Nearly a million US dollars have been raised to support the Corum children's charity – a very worthy cause from one of the UK's oldest charities.  This cause was motivation enough, but it was also a wonderful chance to get to know a wide variety of characters from across the property sector and listen to their views about our market.  
It was undoubtedly the hardest challenge of my life. The wind and rain were unrelenting throughout the six-day ride. There were four seasons during one day with the headwinds and rain of northern France a formidable obstacle. 
Even during the toughest moments, the peloton of cyclists pulled together and the support team was remarkable in their resilience to keep us on the road and our spirits up.
What does cycling mean to the property sector?
During the hard miles on the road, it led me to spend time considering the impact of climate change and whether the extremity of the weather was a sign of things to come. We are all going to have to get used to a warmer, wetter future if global carbon emission reduction targets are not met. 
While we were cycling I was thinking of the irreversible impact of our generation's behaviour on our children and grandchildren – the negative outcome will have more profound change for these generations than our own.  We must therefore do more to consider the future now and take a shared responsibility to address climate change together.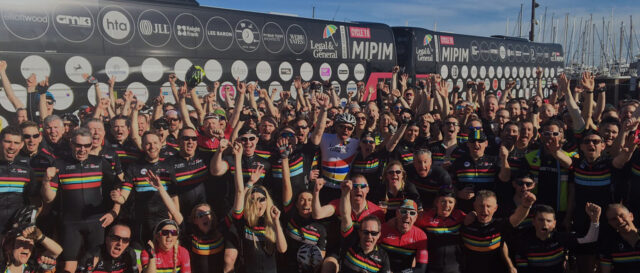 What more can we do to support cycling?
The sheer act of cycling raises awareness around the issue of climate change and shows to other commuters that there are other ways of circumnavigating the route to work.  As Europe's capitals set tight carbon emissions targets, the desire to cycle may well become a requirement, particularly as the transport infrastructure seems ill-equipped to cope with less drivers and more travel by train or bus.
Conversations flowed through the peloton of property cyclists as we wound our way through the countryside about the impact of cycling and its role in the future of our cities.
To get more people cycling, more cities need to follow the example of Amsterdam or Paris, where lorries and heavy goods vehicles are banned during rush hour, leaving cyclists less exposed.  And despite their unpopularity with some in the city, more and better cycle lanes need to be introduced to make cycling safer and encourage others to adopt two wheels.
70% of the team at Longevity commute by bike and all note the impact on wellbeing both physical and mental.  Cycling to work exposes us to more daylight on the daily route to work, and the benefits on general physical fitness are well documented.   
It is surely no coincidence that many of the countries which rank highest on the http://worldhappiness.report/ed/2018/ have invested significantly in cycling infrastructure and encourage physical activity among their populations. Furthermore, 9% of total spend on the UK's NHS is related to Type 2 diabetes, caused by obesity, a trend that continues to rise as our population becomes less active. Getting more people on the road, cycling, running or walking to work represents a key strategy in resolving this significant societal issue.
How has the property sector address cycling so far?
There is much being done already in real estate. Landlords and developers play a critical role of introducing the right approach to cycling at the planning stage of schemes. To achieve elements of the BREEAM certification they need to include changing facilities, but they also play a key role in setting out the right infrastructure, traffic flow and so on. 
Grosvenor Estates, for example, has already set out its work with Transport for London and support for the Healthy Streets initiative across London's Mayfair and Belgravia. By prioritising cycling in the transport mix they are making the city safer for both pedestrians and the growing number of cyclists.  http://vision.grosvenorlondon.com/cycling-across-the-estate
That is just one example, however, the Cycle To organisation – ABOUT US (clubpeloton.org)  – that runs the ride to MIPIM among other events also helps raise the profile of cycling within the property sector and that is having a positive impact too. 
The Futures Ties between Cycling and the Built Environment
Cycling is one example of how society collectively needs to change its approach to work and life in general to meet climate change targets and create significant change.  We need to act together – support one another as the peloton does – and respond as a group to the issues society faces. Carbon emissions know no frontiers – and climate change will only be resolved if we act together and sort it out! 
The Cycle to event across France was a very potent reminder of the power of cycling but also collective responsibility. Cycling to work and a healthy ability to challenge the way we use the car is a start and we are responsible for that choice.